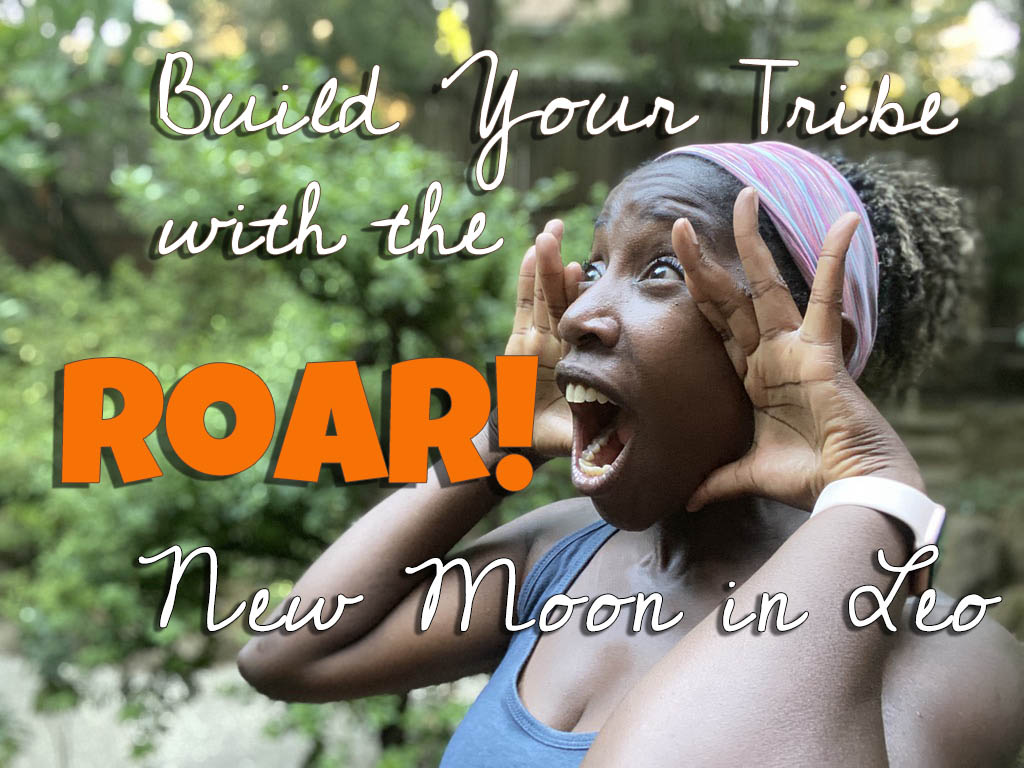 Building your tribe is essential if you want to be a successful Heart-Centered Entrepreneur. The Sun and New Moon in Leo will help you connect with your people and deliver them exactly the right message! In this episode, I give you nine powerful ways that you can use NOW to harness the Leo energy and connect with your lion's pride of loyal followers.
⋅•⋅⋅•⋅⊰⋅•⋅⋅•⋅⋅•⋅⋅•⋅∙∘☽༓☾∘∙•⋅⋅⋅•⋅⋅⊰⋅•⋅⋅•⋅⋅•⋅⋅•⋅
On August 18, 2020, the New Moon will be in Leo. If you haven't already enrolled in my Healing the Healer Masterclass to learn how to do shadow work, then please go sign-up now! It's totally free to join. We are just getting started and you'll want my support during this New Moon phase, because it's bound to be challenging. Issues of unworthiness, particularly around money, are likely to come up and this class will give you some very interesting approaches to deal with any fears or insecurities that arise. So go sign-up, Beloved Heart-Centered Entrepreneur!
On August 18, 2020, the New Moon will be in Leo. Leo is a fire sign, and this period brings fiery, extroverted energy to all signs. The Moon will be aligned with Mercury at this time. What this means is that communication becomes a key element. Many people will feel less shy when it comes to communication, forming new friendships, relationships, and improving the existing ones. You might find yourself exchanging creative ideas, brainstorming with your co-workers or friends about new projects. You will be more curious and will have the motivation to learn new things. You will feel passionate, encouraged. However, the planet Saturn will be in contrast with Mercury. Saturn represents power, control, domination. Some people might be affected negatively from the position of Saturn and find themselves trying to control, or manipulate things. This season will also deeply impact your career. Your focus will also be on your financial situation. Some past emotions might resurface during this period and unconsciously affect your actions. So keep an eye on your emotions and reactions.
On the positive side, during this period, there will be a lot of balancing due to the influence of Venus. Venus represents love, but also balance and diplomacy. You might find yourself trying to mediate between people to rebuild their connections. It also influences your love life. If you are in an existing relationship, you will feel inspired for trying new things and finding ways to reconnect. A little vacation or getaway sounds like a good idea at this time. For the singles, in an unexpected place, and unexpected way, you might meet someone new. There will also be new opportunities for new co-operations. Making new friends, getting involved in community work, volunteer work, socializing becomes very important during this time. The only downside is the conflicting influence of Saturn that will make some of you feel stuck, restricted, not knowing what to do.
If you are trying to build a solid loyal follower base on social media, or in your own community, there are certain steps you can take to take advantage of this planetary alignment, keeping the New Moon's energy at the center.
How to Manifest Your Tribe of Loyal Followers
Self-expression will be very important during this time. You have been waiting for the moment to feel this energy, if you are well-prepared, you will not feel panicked. Because if you move smart, the spotlight will be on you, and the effects of the planetary alignment will last all the way through the Virgo season. This means, if you catch the ride, you can go far. Don't be overly critical of yourself. Don't judge yourself harshly. If you find yourself a bit lost, always contact your friends, and ask for feedback, get their opinions, and create a healthy balance. This being said, now let's look at the strategies you can use with the New Moon in Leo this August.
The Winning Strategies to Manifest Your Tribe
Focus on your social media presence. There are many platforms out there. Don't limit yourself to only one. It's important to create a presence throughout the most popular social media platforms so you can increase your chances of being discovered by different groups of people. Instagram, Facebook, Youtube, Twitter, Vimeo, Pinterest, are some of these popular platforms. Create an account or a page on each of them and post content simultaneously. If you don't want to show your face on videos, you can always upload audios with a still photo on youtube. You feel confident, but don't have the necessary equipment? You might be surprised to learn that many people started with just their cell phones in front of a window, facing direct daylight through the window. You don't need a professional camera in the beginning. Get informed on techniques to increase your followers organically. It takes a bit of work at the beginning but it creates a more solid and loyal base. Many people who pay companies to get followers are only fooling themselves because, in practice, it doesn't help with anything.
Speaking of creating an organic follower base, content is key. It is very important during this time to know exactly what to post, when to post, and where to post it. What kind of content you will create during this time is important. Remember that communication skills will be both positively and negatively impacted, depending on which sign your clients are. While some experience a boost in communication skills, others will feel stuck and unable to express themselves as they wish. The main topics are relationships, both personal and professional, socializing, being creative, being open-minded, trying new things, developing new ideas, meeting new people, manifesting love, soulmate, money. When you create your content, pay close attention to making it interactive. The more people are engaged, the more followers you will get. Enable lower privacy settings on your posts so people who are not following your pages or groups can also find and see you. Social media algorithms favor engagement among users. Ask questions to your followers, encourage them to share their thoughts and ideas. Be provocative (but in a smart way). Try to post once or twice a day, but not more. Too many posts will have a negative impact on people, they might get annoyed and stop following you. Especially on youtube, encourage your followers to like, share and subscribe at the beginning and at the end of your videos. Do keyword search related to your niche and try to find smart ways to incorporate these keywords into your posts. Encourage your followers to share their personal experiences in the comments section. By doing so, you will find out what some of the main issues that keep popping up are. This will, in turn, give you more creative ideas to create more content directly focused on their needs. Use audio-visuals. Use good quality photographs and background music if you have the chance. Choose relaxing melodies, soothing colors, peaceful pictures.
Get email subscribers. The best way to do it is to offer a free product in exchange for your followers' emails. This can be a very short free e-book focusing on relationship issues, manifesting love, or a soulmate. If writing is not possible, you can create a short online free audio or video course that is only available to your email subscribers. Let them know that you won't be spamming them, but you will only send them updates and detailed information they wouldn't find elsewhere on your social media accounts. They will be the first and only ones to know. Sending emails twice a month is a good way to handle this.
Focus on fresh new beginnings. The New Moon phase symbolizes the ending of a cycle and the beginning of a new one. Many people will want to find the energy and the motivation to make a new start, some will need the strength to start from scratch. Keep your focus on topics like "How to start from scratch" or "how to find the motivation to keep going when everything seems to be against you" or "how to find love", etc. Whatever your niche is focused on, set action plans for your followers and come up with creative strategies to keep them going and encourage them to come back for more guidance and insight.
Focus on issues related to "control". This season, as we mentioned above, will manifest itself in two opposite directions. Some people will feel like they lost all the control, while some others will become control freaks. Equally, focus on both of these aspects and develop strategies to help people overcome their weaknesses. One way to do this is to organize an in-person or online group session during which you can practice mediation. Talk to your followers about the importance of finding balance with the help of mediation and show them how they can do it. You can also do youtube, facebook, or instagram live videos.
Become more active in your local community. This is the offline part. Join community events or courses or lectures where you can meet new people and develop a rapport with them. If there aren't any events, consider creating one. You can get the word out on social media, by leaving posters or flyers at the local stores, coffee houses, restaurants. Don't shy away from small talk. It can be an opportunity to pass out your business card.
Many people will become concerned about their finances during this time. It's the impact of Saturn. Consider offering special discounts or one-time-offers to encourage your followers to purchase your services. If they can't afford the full price to pay for your services, they might probably like to know that there is a discount. Create a post promoting this discount. It doesn't have to be an advertisement. A blog post, a social media post with a call to action to make them act quickly while there is still a chance.
Motivation will be hard for some during the New Moon phase in August. It affects everything from relationships to professional performance, from socializing to being open to new relationships. It will be crucial especially around the 18th and 19th of August because this is the beginning of the new phase. People, in general, are mentally and emotionally open to how they can make new beginnings, how they can develop their existing projects, or improve their lives in general. If you can create your content around motivation and new beginnings and how they relate to all other areas in their lives, by engaging them in communication, you will create a bigger and more solid circle around you.
Sign-up to get the blog delivered to your inbox: