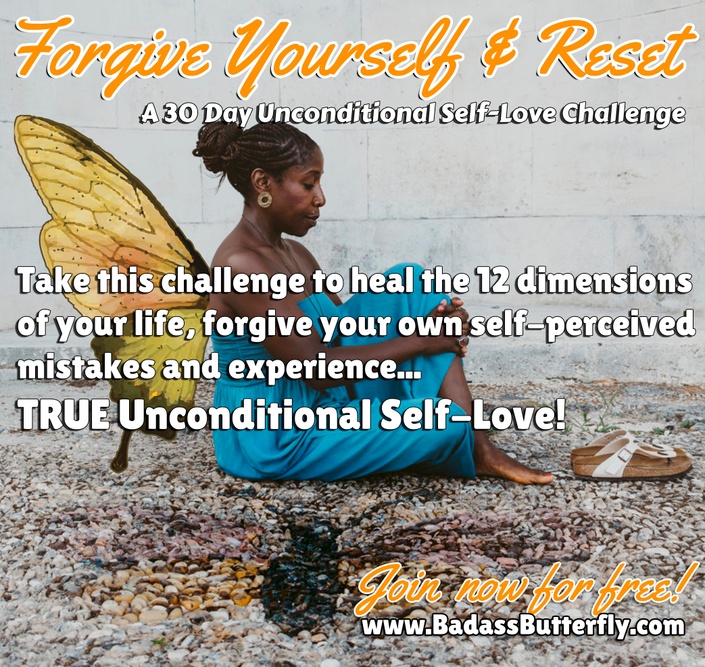 Forgive Yourself & Reset: A 30-Day Challenge to Free Your Heart from the Negative Mindset that Holds You Back.
Take this challenge to heal the 12 dimensions of your life, forgive your own self-perceived mistakes & experience TRUE Unconditional Self-Love!
This 30-day challenge is a complete transformation and healing program. It includes live coaching sessions, structured exercises and activities, a New Moon ritual, a Full Moon ritual and an accountability community.

Inside your heart is a Badass Butterfly--
... A Divine being of light whose Soul job is to create like Source Energy and manifest a majestic, Badass life.
... A totally free Spirit who knows her value and her worth and who holds herself in the highest of esteem.

... A being who has broken free from the cocoon of her old self-- her old beliefs, her old fears, her old way of viewing the world and herself in it. She has totally let go of her old dramas and her old traumas.
... A being who has experienced hardships and pain, and rather than let them beat her down, she exalts and celebrates her choices like the True Badass she is-- taking full responsibility for her choices and making amends where they are needed.

... A being who forgives, not because it is the right thing to do, but because she knows that she is at one with the Universe and that, because her Divinity is protective, there is never really anything to forgive.
The transformation process for a Badass Butterfly is rigorous and it is probably one of the biggest challenges you'll ever take on. Not only do you go from being an earthbound creature whose old body literally becomes the training ground for its new wings, but you then have to completely break-free from your old being so that you can fully embrace your new one.
So no more creature comforts that weigh you down...
No more clinging to the small visions that kept you feeling safe because you are desperate for control.
No more ignoring or invalidating your emotional needs because you don't know how to deal with them or you think that they cannot be met.
No more suppressing or downplaying your desires because self-doubt, fear or shame stop you from reaching for your greatest desires.
No more playing it small because you're afraid the other caterpillars around you can't cope with the beauty of your true magnificent wings.
Stepping into your Badass Butterfly wings takes tremendous courage and focus. Everybody wants to be a Badass Butterfly because we are gorgeous, confident and we embody our Divinity with full awareness. We listen to our Souls and we take action assuming that things will fall into place according to Divine Timing.
Everybody wants to be a Badass Butterfly, but not everybody can break free from the shell.
Is your inner Badass Butterfly locked in the prison of your unforgiving mind?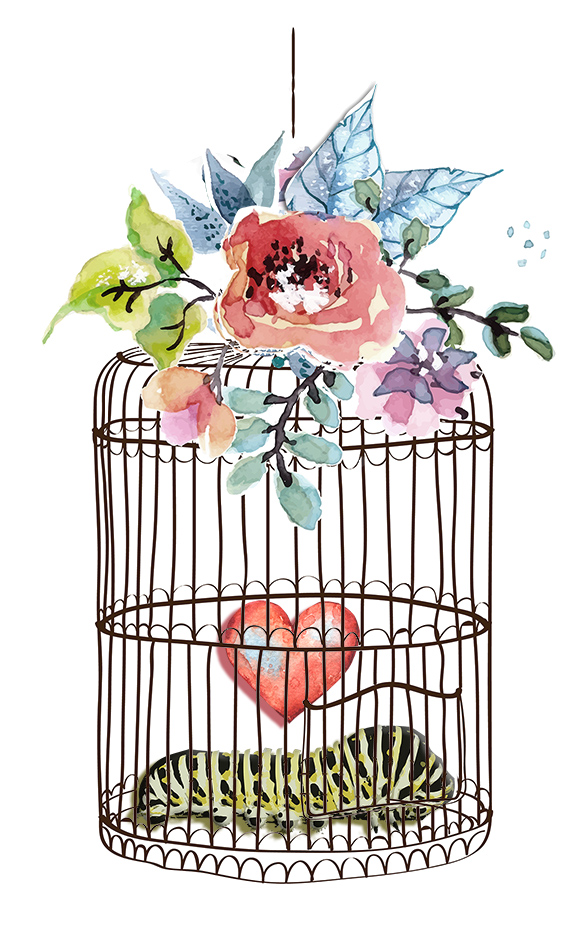 Because everybody starts off as a caterpillar, caterpillar-life is what you know and you cling to it because it provides you tremendous comfort. Being a caterpillar feels safe because you understand it and you feel like you can control life, even if you are deeply dissatisfied with what you are experiencing. For example, let's say you have a dissatisfying job. The caterpillar in you is loathe to leave it because it provides a 'reliable' income and that gives you a sense of security. Your earthbound caterpillar mind actually thinks that your job and money are the source of your security instead of understanding that God/Goddess/Source of All is the only True Source of your security.
Of course, the caterpillar mind is the hardest thing to let go. And actually, a lot of what is in your caterpillar mind will go with you into your butterfly life. Your sensuality, your good experiences, your hopes and dreams will certainly come forward into your butterfly life. But, Beloved, it's not becoming a butterfly that makes you a Badass.
What makes you a Badass is how willing you are to surrender to your Divinity and trust yourself and Life. What makes you a Badass are your decisions to think BIG and go for your biggest, most Badass dreams with gusto, knowing that they're yours and never backing down.
What makes you a Badass is the trust you put into your Soul, your willingness to stay true to your Creed no matter what the three-dimensional illusion throws your way. Your caterpillar mind takes its security from three-dimensional 'security' but finds that there is very little in the three dimensional world upon which it can truly rely. Change is painful for the caterpillar mind and so many people stay stuck in the caterpillar stage, avoiding the passionate call of their Soul; or they answer the call to transform but get totally overwhelmed by the challenge of breaking free from the cocoon. YIKES! That's so sad!!!
So, like Neo in The Matrix, your caterpillar mind has to get trained to recognize the illusion of the three-dimensional world and find her Divinity within her True Nature. From there, life becomes creative connection to Source Energy Itself. The Badass Butterfly puts 100% of her faith in the Truth of her Divinity and her at-oneness with God/Goddess/Source of All. With this in her back pocket she launches from the cocoon of her old self and sets about manifesting her heart's desires.
This course is closed for enrollment.
Are you ready to dive deep into healing and transformation? Are you ready to experience Unconditional Self-Love?
In this 30 day challenge we dive deep into Soul's Agenda to discover a key transformation code that is keeping your heart chained in a prison. This is going to be intense! During this challenge we look at the 12 Shadows of your human experience and we take them through a loving, but powerful healing process that will give you tremendous clarity, openness and a pathway toward manifesting your heart's greatest desires.
This Self-Love challenge is deep, but very gentle and loving. As a matter of fact, our only weapon is not a weapon at all. It's Unconditional Self-Love.
In this challenge, I am going to ask you to look at the 12 dimensions of your human experience and to introduce yourself to the 12 Shadows that block your Highest Potential. Here are the 12 dimensions that we will be exploring.
♈︎The 1st Dimension: physical self, the self-image and how we project that out into the world.
♉︎The 2nd Dimension: values, particularly around money, personal finance and our possessions.
♊︎The 3rd Dimension: lower mind, how we think, how we communicate and how we use language, write and speak.
♋︎The 4th Dimension: sense of security, our basic psychology, and our home.
♌︎The 5th Dimension: self expression, our creativity our relationship with pleasure and our fun.
♍︎The 6th Dimension: our day-to-day life, our job (not our vocation or life's work,) and our drive toward self-improvement.
♎︎The 7th Dimension: our partners and one-to-one relationships.
♏︎The 8th Dimension: how we connect, our sexuality and how we transform. (Super important for us Badass Butterflies!)
♐︎The 9th Dimension: our belief system and our mental expansiveness.
♑︎The 10th Dimension: our vocation, career and our life's work, as well as our relationship with law.
♒︎The 11th Dimension: our inner purpose, our personal goals and our relationship with groups. How we belong.
♓︎The 12th Dimension: our unconscious self, our Soul's Agenda and spirituality. This dimension is where we will develop our power tool of Self-Forgiveness to bring the deepest healing.
Your Instructor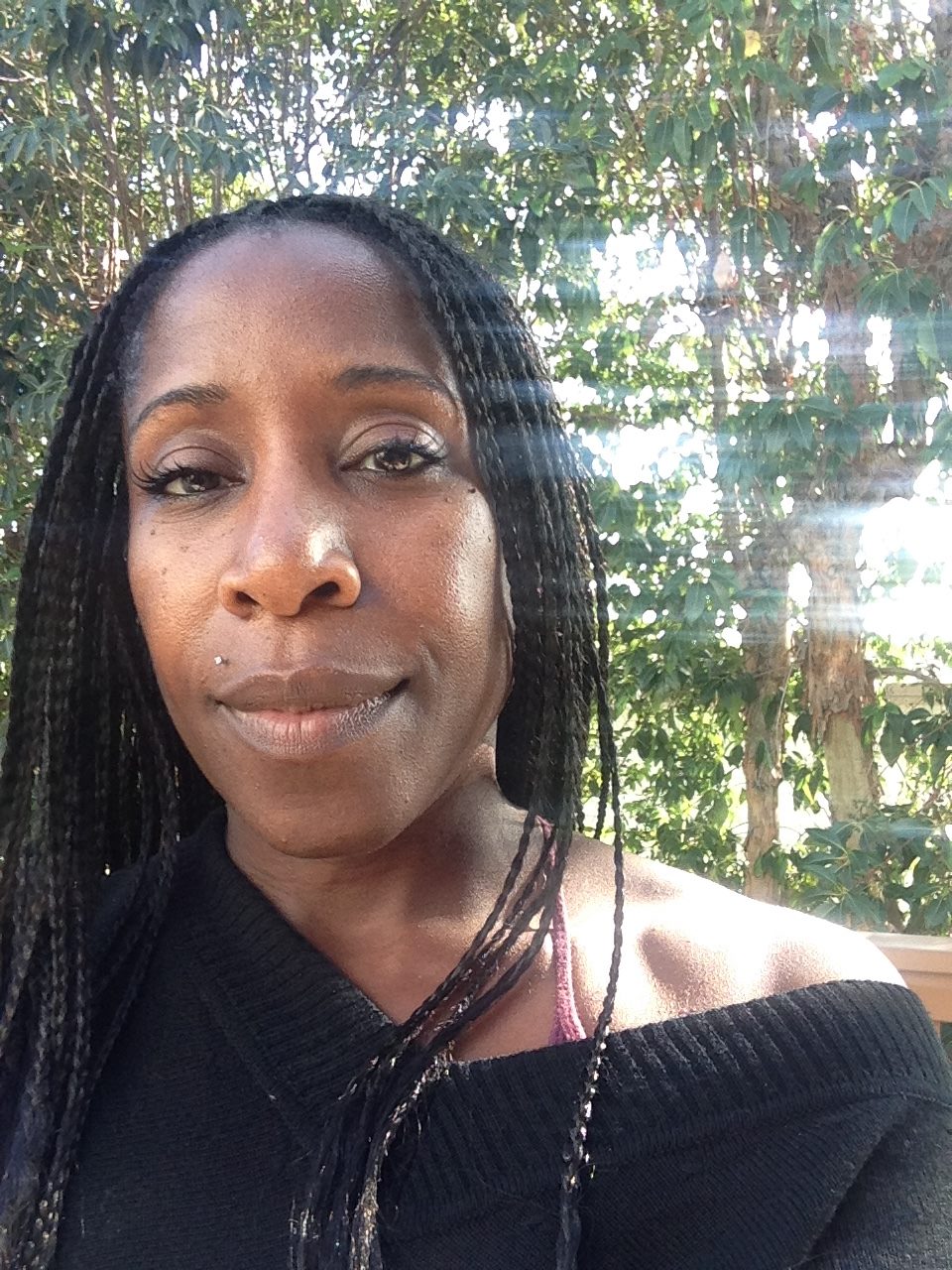 My name is Crystal Lynn Bell and I am an intuitive astrologer who channels healing and guidance for the Sun and the Moon. I have been working as a spiritual healer, coach, mystic and channel for over 20 years. Spirituality, business, travel, mentoring, teaching and helping other spiritual people discover and manifest their dreams are all my passion. Learn all about my coaching philosophy at www.BadassButterfly.com.
Frequently Asked Questions
When does the course start and finish?
The course starts now and ends on March 19, 2020. Don't worry if you're starting late. You can totally benefit from working with us!
How long do I have access to the course?
You have access until the current session ends.
What if I am unhappy with the course?
We would never want you to be unhappy! If you are unsatisfied with your purchase, contact us in the first 30 days and we will give you a full refund.
This course is closed for enrollment.